Pilar Albert joins Araoz & Rueda as Partner of the Labour Department.
J.D. from the Universidad Complutense of Madrid and LL.M. on Human Resources, prior to joining our firm she was director of the labour department at Deloitte Abogados y Asesores Tributarios since 2001. She started her professional career at Estudio Legal, having worked also as HR Director and General Counsel at the UNED (Universidad Nacional de Educación a Distancia – National University of Long-Distance Education Universty) and as lawyer at Lexalia Abogados.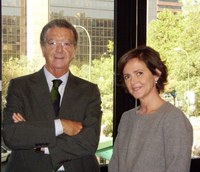 Pilar has broad experience advising domestic and international clients in all kind of labour matters: due diligence processes, collective and individual dismissals, modification of labour conditions, redundancy plans, advice on labour law aspects to companies in insolvency situation, hiring of top-executives and other employees, implementation of working policies and salaries, etc. She also has extensive experience advising in contentious labour conflicts, both in administrative and judicial proceedings.