Because we treat each and every client as if we had no other
Specialization
Specialization in the sector in which the client operates.
Experience
Guarantee of more than twenty years accumulating experience in similar transactions and matters.
Partner-time
Real dedication and high level of partners' involvement in all transactions and matters.
Cost Efficiency
The fact that we are both a Spanish and independent firm together with having a contained structure, allows us not to have to pass on to the client the exorbitant costs of maintaining big firms as well as establishing a policy of national and reasonable costs. We are not the cheapest, but we offer the best relation quality, experience and professionals in terms of cost efficiency. Good lawyers are not cheap, but bad lawyers can be really expensive.
With credibility (fulfilling timings), reliability (knowing what we are doing and doing it well from the outset), response capacity and real accessibility (always being available), a direct and warm relationship (because manners and respect, warmth and sincerity, cannot always be taken for granted…), a language that the client can understand (speaking their own language if necessary and learning it if we don't know it!) and security (consistent high quality, without "peaks and valleys").
Mission
At Araoz & Rueda we want to share our mission with everyone  working with us, both from within the firm as outside: our people, our clients and providers and with the community in general.
Since our creation in 1994 we have had a very clear mission: to provide, in a national and international scope, specialized and high-quality legal services with total dedication and orientation to our clients and their businesses.
Vision
The vision that we have of our firm is the driving force behind our organisation. We have two approaches to our vision:
One, focus towards our clients:
We want to become one of the leading law firms providing highly specialised legal services with national and international recognition for its consistent high quality, commitment to the client and efficiency in every way (costs, services and professionals).
Another, focus towards our people:
We want to achieve a firm with its own identity in which its members feel proud to belong to it.
Values
This is the way we define ourselves at Araoz & Rueda:
Integrity
Our behavior is impeccable.
Responsibility
We assume our responsibilities and act accordingly.
Respect
We treat everyone politely, courteously, warmly and tolerantly, respecting everyone's rights and liberties.
The client comes first
It is clear to us that each client is an opportunity to show what we are made of and to gain its confidence. Since client satisfaction is our main objective, each and every client is treated as if they were the only one. We dedicate time and special effort to each of them in order to adjust and anticipate their needs, committing to optimize their interests and help them to achieve their business goals. That is the way we build a solid and long-term relationship.
Credibility and reliability
We are credible because we deliver on our promises and do not promise anything that we cannot deliver. Furthermore, we are reliable because we know what we are doing and we do it well from the outset. We are passionate about our work…and it shows!
Security
We offer a constant quality in our services, "without peaks and valleys", always guaranteeing the best result. That is the reason we focus exclusively on those areas of practice in which we create value.
Our Commitments
Our commitment to the clients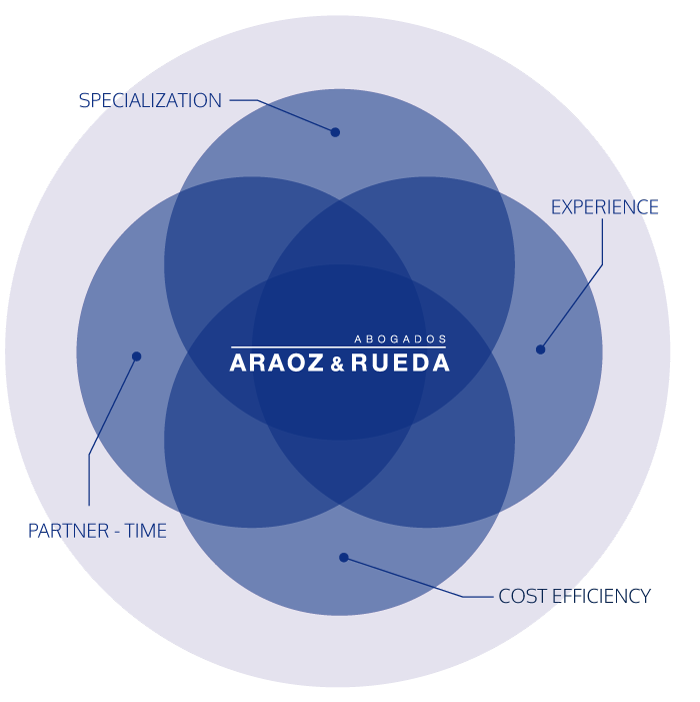 Our committment to employees
Openness

By means of a policy of frank and warm personal relationships, enabling our people to know what is expected from them and motivating them to participate of a common project.
Development

Ensuring our people a reward for their efforts and offering them a clear professional career with a clear professional development.
Our committment with the community
It seems difficult to imagine our lives without paper, does it not? Paper is present in our life in many of our daily activities (work, education, etc).
The environmental impacts arising from the manufacture and recycling of paper (tree felling, wood treatment, toxic dumps and waste, etc), as well as the numerous benefits related to cost-saving (printing, photocopies, maintenance and repair of printers, toners, distribution, storage…) have promoted at all levels the introduction of initiatives to reduce paper consume.
At our firm, also "to the possible extent", we want to collaborate in order to do our bit in this issue. Thus, and insofar as we are able to, we want to introduce internal measures for a responsible use of paper. Said measures will consist in reducing (promoting printing in both sides of paper and establishing policies of responsible printing of documentation and sending periodical internal communications in order to promote the responsible use of paper); reusing (reusing paper in documents which may be printed as draft paper) and recycling (using recycled paper as much as we can).
Araoz & Rueda: For a responsible use of paper.
"The biggest mistake we can make is doing nothing
because we could only do a little"
"Focused on closing deals while ensuring customer's interest as much as possible"
Chambers Europe 2019
"Strong global understanding combined with a commercial approach to negotiations, going beyond the purely legal technical aspects"
The EMEA Legal 500 2019
"Helpful, knowledgeable, efficient and proactive"
IFLR 1000 2019