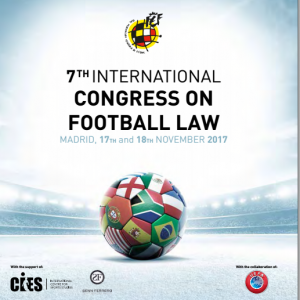 Our partner Clifford J. Hendel participates next November 18th in the 7th International Congress on Football Law organized by the Real Federación Española de Fútbol(RFEP) in Las Rozas (Madrid).
The objective of the seminar is to offer specialists and students the opportunity to debate and reflect on current legal issues related to football. In the event the following topics will be addressed:
The international transfer of minors: legal aspects following the cases of FC Barcelona, ​​Real Madrid CF and Club Atlético de Madrid
UEFA's financial fair play system: a vision through the lens of CAS jurisprudence
Jurisdiction of the CAS in domestic disputes: an analysis of Article 59.1 of the FIFA Statues
CAS and football: main resolutions of 2015-2017 (I)
New evidence before CAS: a practical analysis of Article R57.3 of the CAS Arbitration Code
The importance of CAS in football: the current situation and the challenges for the future
Jurisprudence of the Swiss Federal Court and its effect on the resolutions of the CAS (2015-2017)
The CAS and the soccer: main sentences of 2015-2017 (II)
TPO in football: analysis of the main cases before the CAS, the courts and the European Commission
For more information, you can click on this link.
Araoz & Rueda