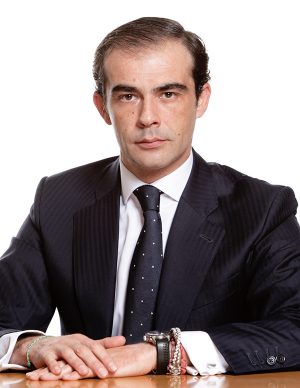 Languages: English and Spanish
Education
LL.M. from Instituto de Empresa (2001)
J.D. from Universidad Complutense de Madrid (2000)
Israel de Diego, partner of the Mergers and Acquisitions department of Araoz & Rueda since 2017, joined our firm after three years as a partner in the M&A and Capital Markets department of Baker McKenzie (2014-2017).
Before joining Baker McKenzie, he worked for five years in the M&A and Capital Markets department of Ramón y Cajal Abogados (the last three years as a partner) and in the corporate and commercial department of other law firms.
Israel has more than fifteen years of experience in all kinds of national and cross-border transactions involving the purchase and sale of companies, assets and liabilities and branches of activity, corporate and debt restructurings and planning of corporate structures, issuance of equity and debt securities and general corporate and commercial contracting, advising also boards of directors of both listed and unlisted companies.

Solid reputation in the mid-cap M&A market. Regularly assists international companies and funds with inbound investment. Popular choice for foreign law firms looking either to refer key clients to a smaller Spanish firm or to work together on transnational M&A projects. Adept in managing the sale of vast real estate portfolios for funds. Client portfolio comprises entities from the life sciences, transportation and TMT sectors. Clients say the experienced team provides an "extraordinary service and very good work" when handling corporate matters. Other interviewees say: "They have everything you need from a boutique. They are reachable and personal, a great firm to deal with." Work highlights: Represented Kefren Capital Real Estate in the sale of five industrial and logistics properties for EUR57 million to buyers Prologis and Blackstone Group. Pedro Rueda leads the team and enjoys a strong reputation as "a very good lawyer and impressive individual." He is well equipped to advise on acquisitions and sales of Spanish companies, as well as advising domestic private equity funds on cross-border transactions. Clients are fond of Alejandro Fernández de Araoz 's "great experience and common sense" in his approach to transactions. He regularly represents clients in M&A deals in the pharmaceutical, renewable energy and financial services sectors. Israel de Diego assists clients from the technology and real estate industries with acquisitions. Clients say: "He advises according to your needs and adapts to the needs of your company." Guillermo Bueno is adept at advising international clients and shareholders on the sale of stakes.
Chambers Europe Guide 2021

The 'engaged, motivated and committed' Araoz & Rueda is a 'boutique and specialized firm that provides very unique M&A and corporate services'. The practice handles the spectrum of transactional and corporate work, across sectors including pharmaceuticals, construction, media, logistics and renewable energy. The team is co-led by Pedro Rueda, who has experience advising industrial and financial clients on behalf of the buyer and the seller; Israel de Diego, who is active in domestic and cross-border matters; and M&A and capital markets specialist Alejandro Fernández de Araoz. Testimonials "Quick understanding of customer needs. Very good management of equipment and resources" "True attention to details regardless of the size of the deal" "Good understanding of what metrics are important for the sector and for the deal itself" "The firm has good knowledge and vast experience in capital markets and M&A" "They prove to be fast, responsive, and provide valuable advice and excellent negotiation skills" "Alejandro Fernandez de Araoz is a responsive, persuasive and multi-skilled lawyer. Over the years he has shown ample experience and a broad knowledge in a different number of fields related to M&A and capital markets" "The team is extremely committed and results oriented" "They are really committed, extremely efficient and very knowledgeable lawyers to rely on"
The EMEA Legal 500 2020

Araoz & Rueda is recognized across all financial and corporate areas. The M&A team represented acquirers on deals in the pharmaceutical, energy, beverage, communication, health, construction, transportation and financial services industries. "I have a good impression of Araoz & Rueda's work. Among its strengths I would like to stress that they follow the process very close to the client" "It is a very good firm, I would like to point out the partners' involvement since the very beginning of any M&A process assessment" "The firm's strengths are efficiency and agility" "The firm has deep knowledge of the needs of the customer. The partners are at front line, flexible and facilitators". Partners Pedro Rueda, Alejandro Fernández de Araoz and Israel de Diego are highly recommended.
IFLR 1000 2020

Included in the list of "Best Lawyers in Spain" in Corporate/Mergers and Acquisitions/Private Equity.
Best Lawyers 2020

The 'always available' Araoz & Rueda 'understands its client's needs and tries its best to reach them'. The group frequently handles cross-border transactions: it advised German pharmaceutical company Dermapharm on the acquisition of Trommsdorff from Ferrer, and assisted French nursing home group Orpea Group with the acquisition of psychiatry centre Clínica López Ibor. Partner Pedro Rueda heads the corporate and M&A team, which saw the addition of Israel de Diego from Baker McKenzie in November 2017.
The EMEA Legal 500 2019
Transactions & Deals Guide, December 2020 (Pedro Rueda and Israel de Diego)
Download PDF
Iberian Lawyer Magazine, January 2018 (Israel de Diego)
Download PDF